en adopción
Type

cat

Name:

Dulce

Since

1-7-2016

Sex

female

Age

4 years and 6 months

Date of birth

7/2013

Breed

Común

Size

medium-size

City

Alicante (Alicante)

Situation

Casa de acogida

ID

14

Health

Wormed. Vaccinated. Negative leukemia. Negative VIF. Sterilized.

Description

Dulce is a cat which has always lived on the Street, is what was used. But one day the person that feeding them, her and their feline companions who lived there with her, she realized that evil had a leg and was limping. She took her to a veterinary clinic and she was operated there on a break in a leg. It has been completely well and recovered, already not lame nothing, but so is fully recover this person took it at home with her.
Dulce is very happy living in a house, it is perfectly adapted.
She loves to sit on the couch in the sun and loves that they caress her and play with her, is very good and loving.
---
PDF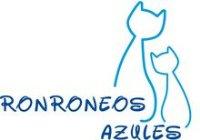 Asociación RONRONEOS AZULES
CONTACTO : ronroneosazules@gmail.com
No se dan en adopción gatos fuera de la provincia de Alicante .
Video: Dulce