en adopción
Type

cat

Name:

Angel

Since

10-10-2016

Sex

male

Age

4 years and 3 months

Date of birth

10/2013

Breed

Común

Size

medium-size

City

Alicante (Alicante)

Situation

Casa de acogida

ID

35

Health

Wormed. Vaccinated. Negative leukemia. Negative VIF. Neutered.

Description

Angel is a cat very loving and sweet and does not seem to stray. We don´t know what luck led him to appear at a point where put feed stray cats. It has been like this for three months. When it appeared to eat it demanded much affection.
It was adopted for a boy and after four days he escaped frightened by the noise of the work and the barking of dogs.
Angel was a week lost by a mountain opposite his new home. Its owner did not bother to look for it.
He was found Sunday, starved and frightened.
Today is quiet in a host house waiting for a good home, where to give the love and security that he need and deserve.
Angel is extremely affectionate, prefer the pampering to the food. Loves to take it in your arms, calls it a lot. Nothing more to see you start "machine", starts to purr nonstop, grave side so you acaricies him whole and mulle air.
---
PDF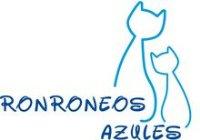 Asociación RONRONEOS AZULES
CONTACTO : ronroneosazules@gmail.com
No se dan en adopción gatos fuera de la provincia de Alicante .
Video: Angel
Angel: cariñoso y adorable.